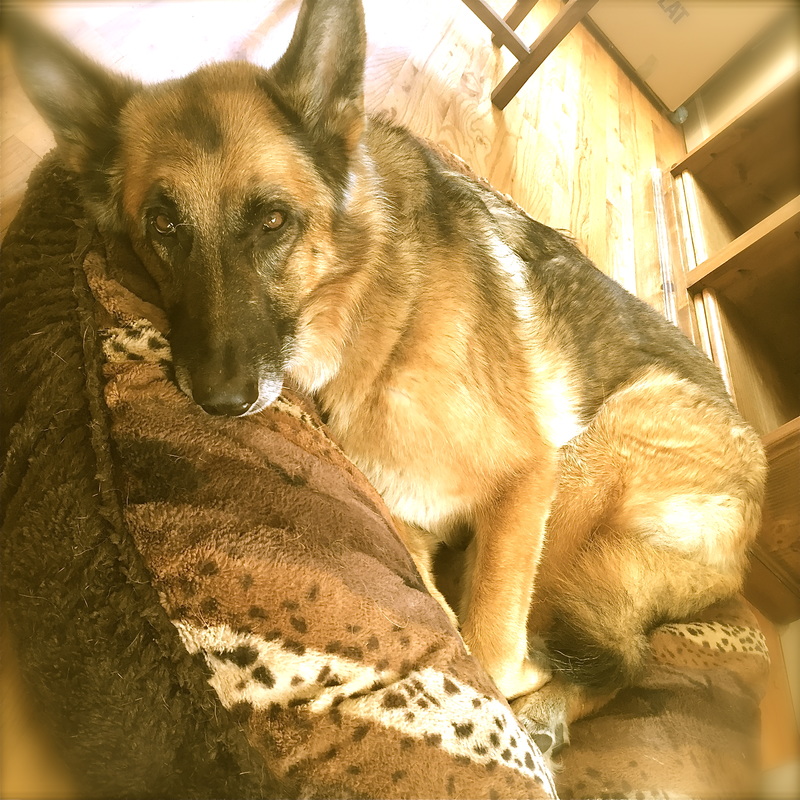 Sometimes pet owners cannot be there for their beloved pets when their pets become ill or have been ill for some time and it's just too hard to comprehend. If you have a professional pet sitter, who is passionate about what they do and love what they do, then you have a priceless gem!
When I was away, one time, my dog had been sick for quite a long time and I had trips planned… well, I got a call between trips. I was out on the Kenai Peninsula and my pet sitter was with my little, tripod dog, Zuke, of 14 years. He had been declining in health for some time. I was in denial. She told me I would need to make a "decision" when I came back home before I took off for another planned trip.
Sometimes you don't realize how ill your pet has been until you don't see them everyday… then the shock of seeing how frail they are hits home. My pet sitter, not only informed me of Zuke's state of being but gave me good advice about making a decision, even tho she didn't judge either way. I went home and saw how poorly my sweet Zuke was doing. I couldn't let him "go" alone, without me… I knew I could trust my pet sitter to do it and that she would, had I asked, and that it would be okay with Zuke and myself, if I decided. But, I felt like it was time.

This is the hardest decision any pet owner has to make. I was fortunate that I had the option to either be there or have someone close to myself and my Zukie, in case I couldn't. I was so appreciative. I have been asked, many times, for my advice, from clients, as to whether they should make a decision or not… I can never tell anyone what the best thing decision is. I had a wonderful, loving, (dog loving!) client (close friend) that had rescued and adopted so many dogs in her lifetime. She knew them all so well. She could tell if they were suffering or if they could be accommodated and made more comfortable, hopefully giving them time to go on their own terms.

That's what we all want… for our pets, ourselves and loved ones… to just go peacefully. So, she gave me instruction for her nine dogs, (and it was a BOOK!) to make them comfortable. Smokey had seizures, cancer, spleen removed, nasal sarcoma, meds that made him eat dog poop and plant soil… He paced ALL night… click, click, click. He was also deaf, lol! You couldn't tell him to lay down, he couldn't HEAR you. All I could do was be there for him.
Cookie had already had a stroke… she went "right around the world" and one of her eyes was blind due to the stroke… she would catch glimpses of things out of the corner of her eye and SNAP! OUCH! Everything looked like a bone to her... INCLUDING your FINGERS! Lol! Leather gloves and not letting your hands swing down by your side was the key to keeping your digits! I never got mad at these sweet souls… and this was only two of the nine.
Cookie had to be assisted down the flight of stairs. She only saw ONE step and would try to LEAP down 12 steps! AND she had been born missing a joint in her front shoulder. Only muscle held things in place. Good thing she was light weight and since she only had her "blinker" stuck on right-turn… I had to keep her on lead, let her go round and round and hurry and catch the "easter eggs" in a bag before she came round again and either stepped in or sat/fell down on one of them!
Then I'd carry her up stairs and when the time came to go potty, we would do it all over again.
Others had health issues as well, like Taiga, she had the most awful skin disease and if she missed a dosage of antibiotics, which she had been on her whole life, her feet would literally split open and she would have to be rushed to the veterinarian for mass doses of intravenous antibiotics! She HATED taking pills too!
Smokey had his own quirks when he was outside. Poor boy, he was so lost due to the medication. He never wanted to come in, so I would sit with him, under a tree for an hour or more until I could coax him inside. I knew he felt more grounded outside, that's why I joined him. I wanted him to feel as normal as possible and I knew he didn't.
So many illnesses and sleepless nights nurturing older dogs… and they ALL waited until their people got home so they could say their goodbyes. And I THANK them for that!

I used to get upset when I couldn't help save them. Then I realized, just recently, due to the insight of a wonderful, new, intuitive client, that I wasn't suppose to heal these dogs… just be there for them during their transition. I am okay with that now. I used to think that pets were more worthy of life than humans. Don't ask me why. Maybe because they are the innocent ones. But I realized that we are all equal. I also believe it's okay for a human to not want to "be here" anymore due to overwhelming grief from loss of a loved one… because I can feel their pain on a VERY deep soul-level. I am now okay that animals have their time too… and I will be there for them and it's a beautiful thing to be "chosen" to comfort a kindred spirit, when the time comes… even if their owner can't. I am that person. I am THAT pet sitter. I am there for you and your pets… on the spot, so you don't have to.

When I began pet sitting years ago (2006), I wanted to be there for all of my clients' and their pets when the time came because I didn't want them to have to do it alone and I WANTED to be there to support them because I could feel their pain. In the last 10 years I have always asked my clients pets (and their guardian angels) to wait until their owner gets home before going… and they always have… so far. I know there will come a time when I will have to be the one to do this for a client/friend and it will be very difficult as I have bonded with each one of my clients' pets very deeply as well as my clients.
One of the biggest reasons I bond so deeply with others pets is because two years ago tragedy struck our family… my daughter and I had to start our life over by moving back to my childhood home. We had to give up our 4 dogs, 2 hens and 3 dairy goats, foster dogs as well as our home and all of our clients and their pets, which we were so close to. Sometimes life kicks your "ant hill" to get you out of your comfort zone so you can do greater things in this life. So many blessings have showed up since our new adventure!
My daughter and I absolutely LOVE all of our clients' pets… truly, like our own… even stronger, due to the transference from the pain of loss of our own beloved furry family members. Sometimes bad things happen to good people because they are needed elsewhere to be a blessing to many others. I have found that to be the case, every time. Whenever one door closes, ALWAYS a better and better one opens!
Pet lovers are THE MOST wonderful people in the world! All of my clients love their pets SO much, I am so amazed at how caring and conscientious they are with regard to the holistic welfare of there pets. It's SUCH a relief to see pet owners educating themselves on just about everything they can to give their pets the best and most enriching lives they can. Thank YOU! You have NO idea how refreshing it is to see pet owners who are so responsible with the care of their pets…. after what I've seen working with the rescue in Alaska, that says a LOT!
Hannah and I look forward to our next "stay cation" in your home with your wonderful critters! It sure fills the void and we certainly enjoy being on the spot for them and you!
Blessings to you all and we DO absolutely appreciate and adore each and every one of our clients' pets and our clients, which always end up being friends... really.