Services
Hannah Wetzler, (above) VP of Connie on the Spot Inc and my right hand, loving on Kubi who HAS to have ALL the LOVES!

Hannah and Sparky enjoying cuddle-time

---

Perks of trimming goat hooves...
​LOVE fresh, raw, goat's Milk!
I can tell if a goat's rumen is off just by smelling the milk and I know just the thing to easily correct that for the freshest milk as well as several other "tricks!" I had done research on how to properly care for dairy goats for 3 years before I got my own. I had my small goat dairy for 5 years and the romanticism of it never wore off. I miss my goats but I had to move on and I made sure they had good homes. If you need some advice about caring for your goats, give me a call, I may have just the information you need. ​
SERVICES

Service One:
Standard Single Visit or 20-30 Minute Walk or House Sit Stop-In
$20
This includes play time in your yard/home or brisk 20-30
minute walk, feed, water, litter box clean-out, "accident" clean up and
administering medication.
There is an additional $10 charge per extra 15 minutes if caring for your pet/s
takes more time than the allotted time of any visit.

Service Two:
Connie on the Spot is no longer offering new clients Overnight Stays.

Service Three:
Extended Visit/45 minutes
$25
This is for those who have a large number of critters that takes a bit more time or finicky cats, or dogs that are not used to the change in routine and need extra time to go potty outside and relax.

Service Four:
​60 Minute Visit
​$32
This is a great service as this allows for time to love on your pets and give them the attention they need during the day so they don't get bored and get into things. This includes everything in the Standard Visit including LOTS of TLC time to sit back and listen to the birds or watch animal planet.
Note: Rates above are for clients within an 6 mile radius of Carlsborg, Wa.
Connie on the Spot is no longer offering services outside of the Carlsborg/Sequim area.

Pet Tech Pet CPR/First Aid Classes:
2 Year Pet CPR/First Aid Certification for Pet Professionals and Pet Parents (see "More" page on this website for details)
$60.
To find out about scheduled classes near you....
Go to www.pettech.net, click on "classes," enter "city" & "zip code" then click on the class in Sequim that is scheduled for the date you are available. There may be multiple dates I am hosting classes so make sure to check which date you are registering for.
​
Watch the video below to see an example of how valuable Pet CPR is, even if you are not doing it according to current standards, it can save your beloved pets' life! This is an example of finding a dog down and unconscious. This man was wise in checking for a possible obstruction after performing chest compressions.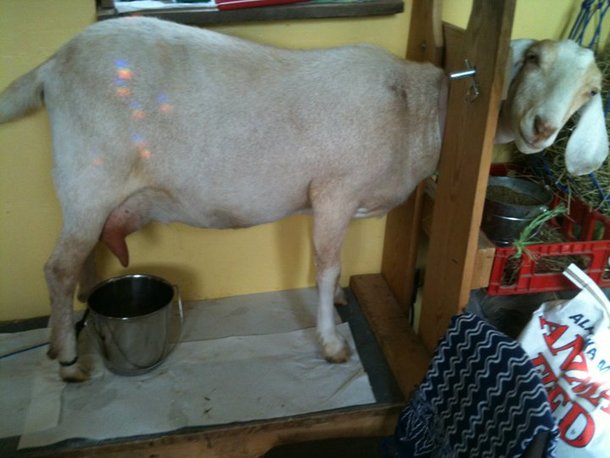 "GOAT MILK?"

Connie on the Spot is now offering
Goat Hoof Trimming Services!

If you need your goats milked by hand, we can do that too!
If you need advice… I may be able to help you there too or you can go to www.fiascofarm.com for a lot of real sage advice.

Give me a call and we can talk!
​ 360-461-4103
---
Additional Services: ​I can also bring in the mail and the paper, change light settings, adjust blinds, turn on/off TV/Radio and water your plants.
​
Additional fees for watering large number of plants
or for other time consuming requests is $10.00 for every 15 minutes.

Dog Walking:
The rate for dog walking is for 1 dog (leash trained). If you have 2, well trained, easy to walk dogs, we will walk 2 dogs, an extra fee of $3. for the second dog.
Connie on the Spot does not walk aggressive dogs or dogs that are large and unruly on-lead.

House Sit Stop-In: ​I can bring in the mail and the paper, bring in packages, change light settings, adjust blinds, turn on/off TV/Radio and water your plants. Keep an eye on things like keeping the heat going to avoid pipes freezing, turning off the heat during the day, stoke up the wood stove at night, etc. I will give your house that lived-in look and I can arrive at odd, unpredictable times or on your specific schedule, depending on calendar availability. (If you have a small rodent or two, a few fish or a couple easy to care for reptiles, I can take care of that, too, at no extra charge! Although this would be considered "pet sitting", most of these types of pets are low maintenance.)
​

Transportation Costs:
​Trips to the vet (emergencies included), groomer, pet store, pet supply run,
are an additional $20 per 30
minutes.

Holiday Surcharge:
There is a Holiday Surcharge of $25 per service for all major holidays which include, Easter, 4th of July, Labor Day, Memorial Day, Thanksgiving, Black Friday, Christmas Eve, Christmas Day, New Year's Eve & New Year's Day.

Daytime visiting hours are from 7 am to 7 pm.

100% Payment is due upon the first day of service via check (post-dated for first or last day of service is acceptable) made payable to Connie on the Spot and mailed to:
Connie on the Spot
PO BOX 1532
Sequim, WA 98382
​1-360-461-4103
Now accepting payment via Paypal through Time to Pet online software!