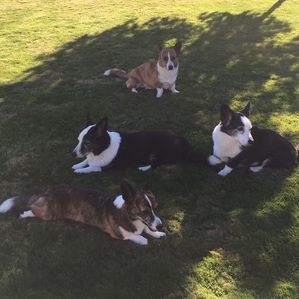 One of the greatest gifts of a professional pet sitter is that they are able to be there, in your home when you are unable to. Your pets don't have to be put in a kennel with other dogs with whatever temperaments they may have or whoever may be working in the kennel at the time that you may not know anything about. Are they gentle and loving and attentive like you are? Are they taking good care of your pet? Is your pet able to have fresh air anytime they need it? Do they have their own comfy bed?
​Some dogs do well in this situation and there are some great kennels out there for sure! But if you've had bad experiences or you just want your pets to be comfortable and pampered, like you would do… then hiring a professional and trustworthy pet sitter is the greatest asset to have!
You can relax and go on your vacation or business trip or family emergency knowing who is in your house and Connie on the Spot can promise YOU that there will be no strangers invited in a client's home, NO boyfriends, etc. You don't hire a contractor who is licensed with coverage to have them invite their friends and family over. It's no different for Connie on the Spot. We are a professionally run business, not hobbyists and we take business seriously.
​If it isn't one of our pet sitters that you have approved of and is covered under our licensed insurance and bonding, then they won't be in your home… period!
All Connie on the Spot pet sitters/Independent Contractors will not only be covered, liability-wise and Honesty Bonding but will also be certified in Pet CPR & First Aid! Because I'm an instructor and this is a requirement to be a part of our team!