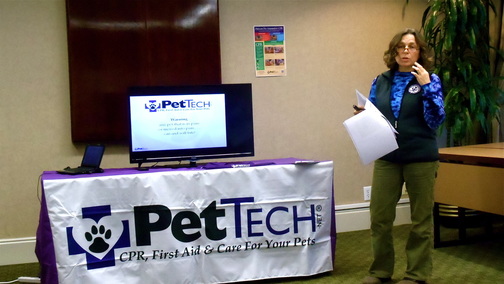 Hello I am Connie Wetzler, founder of Connie on the Spot Inc. I have been pet/house sitting since 2006 and volunteered as foster and foster coordinator for Alaska Dog & Puppy Rescue from 2008-2013. I have seen many dogs and puppies in a sad state from neglect and abuse and living in Alaska there are dangers of frost bite, fur traps and the like, but the greatest motivator for me to become a Pet First Aid/CPR Instructor was one event that I have never forgotten…

I had a horrifying experience one time when I was at the vets office. A man came running in panicking as his beloved Corgie was choking on a small tennis ball that was lodged in his throat. I watched as the dog struggled for air, then went limp. All the while the man was yelling for help and the receptionist just told him to calm down and that the vet was in surgery... no one knew what to do to help him. She took him and his unconscious friend in a back room… I never knew what happened after that.

I thought, how awful that NOBODY knew how to save this dog, including the owner, and the vets' office was FULL of people! This was a totally preventable accident. Not to mention the poor man probably drove like crazy in the ice and snow, endangering everyone on the road on his way to save his dog.

When I shared this story with a vet tech, only then did she understand why it was important for pet parents to have these skills and not just the professionals.

Another reason I wanted to be a Pet Tech Instructor was because I have always believed in disaster preparedness. What better way to motivate others to be personally prepared than to educate them on being prepared FOR their pets? They cannot save their pets if they are unprepared themselves.

I had volunteered with the Red Cross and had been waiting 6 months for Pet First Aid & CPR Instructor training. Eventually, or uneventfully, I was informed that they had decided to no longer train health instructor volunteers for our area but they would wave the fee since I had been waiting for so long and that they would train me in Seattle and send me abroad… but I would not be able to serve MY community. This defeated the purpose of being of service in my community.
I said thank you very much but I believe I have just the resource to fill this need. The coordinator said that the Red Cross would endorse and support me in my area and wished me luck.

Serendipitously Lisa Faust just happened to be teaching the Pet Tech First Aid/CPR Instructor course in Tacoma! It was perfect timing!

Note: All Connie on the Spot pet sitters certified in Pet CPR & First Aid for cats and dogs. This is a two year certification that I require all who are part of our team to renew their certification annually.